Root Canal Therapy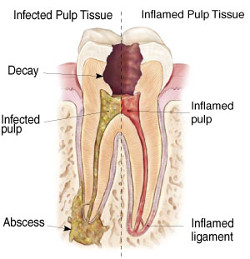 When a tooth has been infected due to a crack or deep cavity, root canal therapy can be used to repair the tooth and prevent extraction. During this procedure, the nerves and pulp of the tooth are removed, and the infected area is cleaned. The pulp and nerve of the tooth can be removed without affecting the health and function of the emerged tooth. If the infection left untreated, it can spread to the surrounding bone. Once this happens the entire tooth must be extracted. Root canal therapy has a long- lasting rate of success.
What are the Signs?
-Patients in need of root canal therapy experience great pain while eating
-Those suffering also experience a restless night of sleep.
-Teeth may become sensitive to both hot and cold temperatures. The sensitivity may linger for increased periods of time.
-The infected tooth may become dark and discolored.
-The gums surrounding the infected tooth are painful and swollen.
Treatment Process
To start, an opening will be made within the pump chamber through the crown of the infected tooth. The root canal will be thoroughly cleaned once the pulp has been removed. Your dentist in Elmwood Park, NJ may decide to complete the treatment over the course of a few visits. If so, a temporary filling will be used to protect your tooth between visits. During your final visit, the temporary filling will be removed, and the root canal and pulp chamber will be thoroughly cleaned again. Once the area has been re-cleaned, a permanent filling or crown will be placed.