Gingivectomy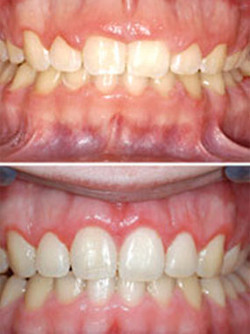 Contouring of gums to reduce "gummy smile", typically using laser.
The Gingivectomy Procedure
Prior to the gingivectomy procedure, scaling and root planing is often used to remove bacteria and tartar from below the gum line. The gingivectomy procedure itself typically requires just local anesthesia to numb your gums. Traditionally, a scalpel is used to remove gum tissue, but today, many dentists use laser gingivectomy for less invasive treatment, minimized bleeding and faster healing time. (It's important to note that the gingivectomy cost may range according to the type of gingivectomy procedure performed.)
Depending on how much tissue needs to be removed, the gingivectomy procedure can take anywhere from a few minutes to an hour.
Does a Gingivectomy Hurt?
Most periodontic procedures aren't painful, but you may feel some discomfort following your gingivectomy procedure. Bleeding gums are also normal for the first day or two. As with any surgical procedure, there is always a minor risk of infection. Your dentist may prescribe you antibiotics to reduce your risk of infection from bacteria entering the bloodstream.